Exclusive 90-Day Warranty Information:
With every Full Home Inspection, a 90-day warranty can be obtained if desired.  You need more than just a home inspection, you need a piece of mind even after the job is done.  Please ask us how this can be included with your home inspection.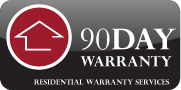 Residential Warranty Services:
The simple warranty by Residential Warranty Services, represents the broadest coverage available in the market today.  All options are included, no known pre-existing conditions, and the best coverage is offered guaranteed!  In fact, is if you are ever denied coverage for a claim that can be verified eligible by any other policy, it will either be covered or you will receive 100% of your premiums back.  Click below for details on this great offer!
Click here to view a price guide and coverage details.
Once you're ready, click the above image to order!